My husband took the time out of his very busy schedule to write this article last night, October 21, 2016.
The third and final presidential debate between Clinton and Trump has made it easy for good Americans to know how they must vote this election.
The most basic guide to morally upright conduct is more or less universally recognized to be the Golden Rule: "Treat others the way you would wish to be treated," or, in its negative form, "Do not treat others in ways you would not want to be treated."
This rule is found in one form or another in nearly every religion and every system of ethics.
While the Golden Rule is a simple rule, it demands of us a deliberate thoughtfulness in regard to the impact of our actions on others. In the case of the current election, however, the deliberate thoughtfulness required is minimal. Because each of us was once living within the bodies of our mothers, we can fairly easily imagine changing places with others who are not yet born. When we do so, it is easy to know how we must vote this election.
The not-yet-born are the weakest, most disadvantaged minority in all America. While no member of their group has broken any law, they nonetheless collectively live under the threat of the arbitrary imposition of the death penalty at any moment, with no trial nor any hope of appeal. They have no voice. They have no vote. They cannot speak for themselves, nor can they defend themselves.
We were all members of this group ourselves once. Our lives stretch back in an unbroken sequence from conception to the present. It is thus not difficult to imagine a time in our lives when we were just a day or two from birth. From our present vantage point, looking back, would we be happy to trade places with another not-yet-born child, also just days from birth, but scheduled for death? How would we want voters to vote, were we in the place of the many millions who will be conceived over the tenure of Supreme Court justices who will be appointed during the next four years? And if we find that there are events and experiences in our lives that we would not want to have missed for anything---from the beauty of a sunset, to the joy of human love---is it not reasonable to suppose that they, could they exchange places with us, would feel the same?
Here is a quote, not by a member of any religious sect, but by an atheist. (Adam Lee, "The New Ten Commandments", http://www.patheos.com/blogs/daylightatheism/essays/the-new-ten-commandments/)
Under the subheading, "Do not do to others what you would not want them to do to you," he writes that the Golden Rule is:
"the single greatest, simplest, and most important moral axiom humanity has ever invented, one which reappears in the writings of almost every culture and religion throughout history ... Moral directives do not need to be complex or obscure to be worthwhile, and in fact, it is precisely this rule's simplicity which makes it great. It is easy to come up with, easy to understand, and easy to apply, and these three things are the hallmarks of a strong and healthy moral system. The idea behind it is readily graspable: before performing an action which might harm another person, try to imagine yourself in their position, and consider whether you would want to be the recipient of that action. If you would not want to be in such a position, the other person probably would not either, and so you should not do it. It is the basic and fundamental human trait of empathy, the ability to vicariously experience how another is feeling, that makes this possible, and it is the principle of empathy by which we should live our lives."
A rather simple application of the Golden Rule makes it easy for good Americans to know how they must vote this election.
Gerald E. Aardsma Loda, IL 2016/10/21
Introduction
As a Christian mother, do you sometimes feel you could use a little encouragement? Do you sometimes wish you could sit down over a cup of tea with an older Christian woman who has lots of experience raising children and running a household, have your questions answered, and maybe pick up a few tips?
I'm Helen. I am mother to ten children and grandmother to nineteen, so far. For nine years (1995 through 2003) I wrote The Mother's Companion to encourage Christian women in the art of mothering.
In The Mother's Companion I shared what I had learned of the art of mothering. I also invited other women to share their ideas, experiences, and wisdom. The setting for our thoughts was a potpourri of encouraging snippets: poems, timeless advice from past generations, simple recipes, time- and money-saving tips, and much more. The wisdom and encouragement The Mother's Companion has to offer continues to be made available today through this web site.
I attended the birth of my 17th grandchild, Gerald,
born to Matthew and Esther, December, 2012.
Photo used by permission.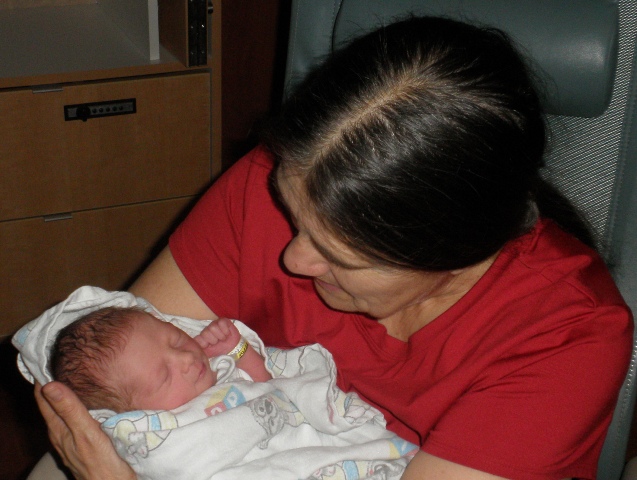 My husband, Gerald, holding our 18th grandchild, Faith Olivia,
born to Jennifer & Steve, June 2013.
Photo used by permission.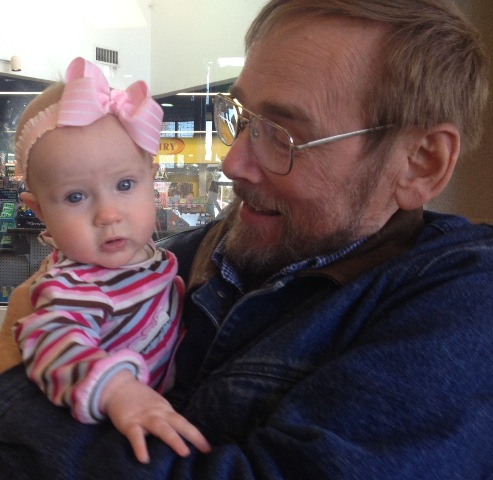 Here I am holding my 19th grandchild
born to Rachel and Joey, October 2013.
Photo used by permission.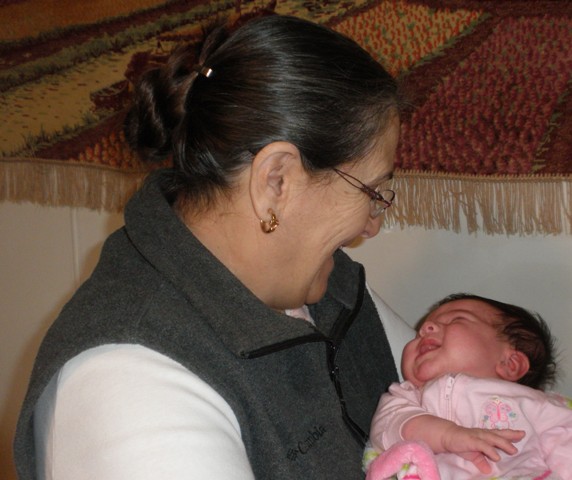 My 20th grandchild, Eldora Rose
born to Matt & Esther, Summer 2014.
Photo used by permission.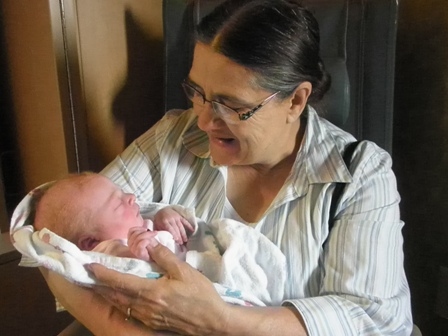 Titus 2:3-5 says: "Older women likewise are to be reverent in their behavior... teaching what is good, that they may encourage the young women to love their husbands, to love their children, to be sensible, pure, workers at home, kind, being subject to their own husbands, that the word of God may not be dishonored." These verses imply that being a good mother isn't something which just happens automatically--it must be learned. In fact, godly mothering is an art, not an instinct. Like any art it cannot be reduced to one or two simple principles. It is a composite of theory and practice; a living skill which is acquired a little every day by observation, study, and experience.
God intended women to be instructed and encouraged by other Christian women in the high calling of mothering. He intended that we should receive affirmation and correction from those who have preceded us as we seek to master this God-ordained art.
Unfortunately, the art of mothering is being lost today. Due to the persistent belittling of motherhood by our culture, the loss of the close extended family, and the "me" generation's general disregard for the accumulated wisdom from the past, much of the art of mothering has failed to be transmitted to the present generation. This failure has had tragic consequences in many modern families. Sadly, Christian families have not been exempt.
That's why I wrote The Mother's Companion. I know I've benefited greatly from the godly advice and encouragement of older Christian women in my many years of mothering. In the pages of The Mother's Companion I pass on to you what I've learned and found to be beneficial and encouraging.
The "Aardsma Five" Thanksgiving, 2014.
From left to right:
Front: Esther, (holding Eldora), Gerald, Helen, 'Beka, baby Emma, & Rachel.
Back: "Little Ger", Matthew, Caleb, Timothy, Mark David, & Joey.
Our 2014 Homecoming, August 2014.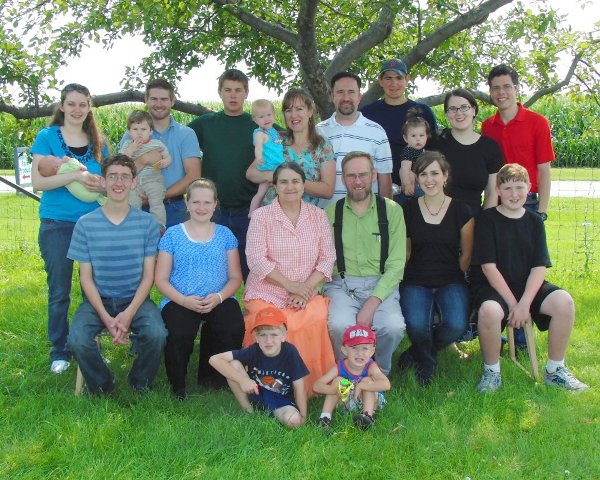 Being a full time "on the job" mother is the most important
and the most fulfilling job in the world! God bless you!